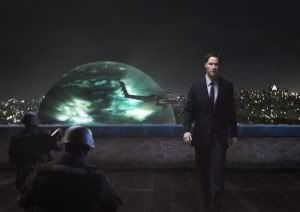 The entry today might not be otaku-related but I'm fond into movies that have space theme. The movie
"The Day the Earth Stood Still"
will have a unique remark that will be the first to all movies; transmitting the first motion picture in to deep space, making it the first ever movie to be galactic.
This is my general statement for this one of a kind entertainment = FTW! XD
Yahoo Buzz!
has the news:
Twentieth Century Fox makes history by transmitting the first motion picture in to deep space, making THE DAY THE EARTH STOOD STILL the world's first galactic motion picture release. The first deliberate deep space transmission of this highly anticipated science fiction thriller will begin this Friday, December 12, 2008, to coincide with the film's opening day on Planet Earth. If any civilizations are currently orbiting Alpha Centauri, they will be able to receive and view the film approximately four years from now in the year 2012
Awesome eh? They will be starting the operation after the movie is available for all theaters and available in DVD's or Blu-ray's. Using the
Deep Space Communications Network
located at Cape Canaveral, it will be termed as the "ultimate wide released" movie and it will be zipping through space at 186,000 miles per second to reach possible consumer base orbiting the three star system,
Alpha Centauri
.
Wanting to create history, Fox wanted feedback from a civilization that is living in the Alpha Centauri, which is 4.37
light years
away from our Sun. Basically, the year it takes to have the feedback is 8, roundtrip.
More on
here
| | |
| --- | --- |
| | Hmmm futuristic |